Check account balances through your SMS* enabled mobile phone. Your standard mobile service provider fees may apply.
Quick and easy setup through your NetTeller account
Check account balances by text
Check account history by text
Text banking is available to current consumer and business online banking users. If you currently are not an online banking user simply sign up and activate text banking. To activate text banking follow the instructions below:
 
Step 1: Log into NetTeller.
Step 2: Select Options > Mobile Settings > Text Mobile banking.
Step 3: Enter in mobile phone number, select accounts to access via text, and create Mobile Short Name* for each selected account. Click Submit.
*Note: The mobile short name is the name that will be included in the text to request information for a specific account.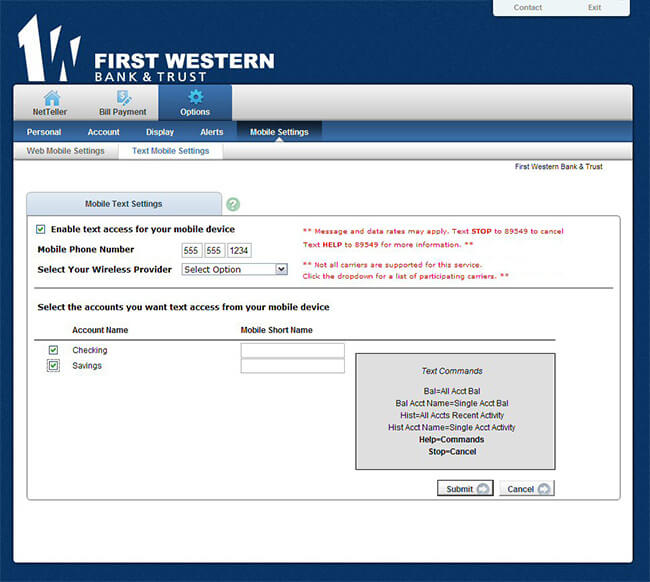 Step 4: Review enrollment information. Check I accept these full terms and conditions and click Confirm.
Step 5: Text the validation code provided on the confirmation screen to the FI's short code to complete the enrollment process.
Text Command Valid SMS Messages
These are the valid SMS messages you may send.
| | |
| --- | --- |
| Help | Returns command references |
| Bal | Returns balance for all enrolled account |
| Bal<Account Name> | Returns balance for specified account |
| Hist | Returns last 4 transactions for all enrolled accounts |
| Hist<Account Name> | Returns last 4 transactions for specified account |
| Stop | Disables enrollment for text mobile banking |
*Note: Messages are not case sensitive.  Not all mobile carriers support SMS texting. Please contact your mobile service provider for more information.