Who do I call for lost or stolen cards?
During normal business hours call (701) 852-3711 or 1-800-688-2584.
For after-hours reporting call 1-866-546-8273.
How do I reset my NetTeller/Online Banking password?
Select "Forgot Password" below the Online Banking login area.
Enter NetTeller ID, email address on file, and an "email subject" of your choice that will appear in a password reset email.
Check your email address on file for an email from First Western Bank & Trust.
Click the link within the email if you would like to reset your password.
Answer your previously answered security question.
Create a new password.
What is the bank routing number?
The First Western Bank & Trust routing number is: 091310440
This information can be found on the MICR line on the bottom of your personal or business check. For personal accounts the routing number is the first set of nine-digit numbers on the bottom left hand corner. On business accounts it is the second set of nine-digit numbers on the bottom left hand corner.
What size Safe Deposit Boxes do you have and what do they cost?
Size and availability varies by location. Please contact us for more information.
At what times of the day can I access my Safe Deposit Box?
You can access your safe deposit box during your institution's lobby hours.
Please note that our Bismarck branch location does not currently have safe deposit boxes available.
Can my child under 18 years get a debit or credit card?
Yes, if a parent or guardian is on the account and also signs for the card.
Where do I mail my loan payments?
Loan payments can be mailed by all customers to the Main Bank:
First Western Bank & Trust
PO Box 1090
Minot, ND 58702-1090
Eden Prairie customers may continue to mail their loan payment to the Eden Prairie Branch:
First Western Bank & Trust
100 Prairie Center Dr
Eden Prairie, MN 55344-5452
What do I need in order to open an account?
You will need a valid photo ID and social security number. A minimum deposit may be required depending on the type of account opened. See our Checking and Savings accounts.
Do you have a coin counting machine?
Yes, and there is no charge for customers. There is a 2% fee for non-customers.
How do I stop payment on a check?
Call Us
Call us at 1-800-688-2584 to request a Stop Payment.
There is a fee.
You will need the check number, amount of check, date written and payee name.
Online
You can request Stop Payment from your online banking account. There is a fee.
Select Stop Payments from the drop-down menu next to an account.
Fill in the required fields and click Submit.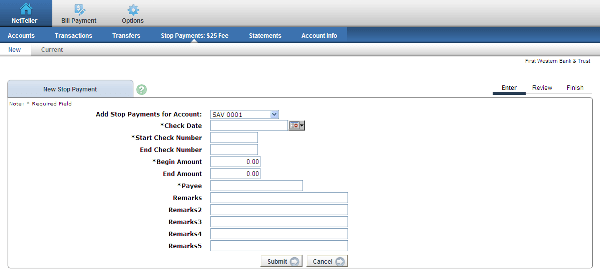 Editing or Removing a Stop Payment
You must contact the bookkeeping department at 1-800-688-2584 to edit or remove a Stop Payment.
Please be sure to check the current transaction page to make sure the check has not already been paid.
There will be a Stop Payment fee.
You must print, sign and forward the confirmation page to our bookkeeping department within 14 days to verify this Stop Payment. If we do not receive the confirmation page by the 14th day, the Stop Payment will expire.
Where are your ATM Locations?
You can find our ATMs along with other MoneyPass ATMs on our surcharge free ATM locator.
What if I lose my Certificate of Deposit?
For CDs issued before October 1st, 2014:
If you are unable to locate the CD we require identification to cash the CD plus a $10 indemnity bond fee.
      *CDs issued after October 1st, 2014 are digital and proper identification is the only information needed to cash the CD.
Do you charge a penalty for cashing in a Certificate of Deposit before the maturity date?
If we consent to a request for a withdrawal that is otherwise not permitted you may have to pay a penalty.
What is Mobile Remote Deposit?
Mobile Remote Deposit is an app that allows you to deposit your checks with your mobile device.
How do I enroll for Text Banking?
You may enroll in Text Banking through our online NetTeller. See our Text Banking page for directions.
What do I need to know about Beneficial Ownership?
Effective May 11, 2018, new rules become effective that will expand customer due diligence requirements for banks.  These rules are an important part of assisting the government in the fight against financial crimes and national security threats.   
What is required under the new Customer Due Diligence (CDD) rule?
All banks and credit unions will be required to implement enhanced procedures used to identify and verify the beneficial owners of legal entity customers each time a new account (checking, savings, loan, safe deposit box, Certificate of Deposits) is opened. 
Who is defined as a beneficial owner? 
Each individual, if any, who directly or indirectly, through any contract, arrangement, understanding, relationship or otherwise, owns 25 percent or more of the equity interests of a legal entity customer AND a single individual with significant responsibility to control, manage, or direct a legal entity customer including an executive officer or senior manager (CEO, CFO, COO, Managing Member, General Partner, President, Vice President, or Treasurer or any other individual who regularly preforms similar functions).
Who is defined as a legal entity customer?
A legal entity customer is defined as a corporation, LLC, or other entity created by the filing of a public document with the Secretary of State or similar office, a general partnership, and any similar entity formed under the laws of a foreign jurisdiction.  This also includes limited partnerships and business trusts that are created by filing with the state office and any other entity created in this manner. 
It does not include sole proprietorships, unincorporated associations, or natural persons opening accounts on their behalf. 
What type of information is required to be collected from beneficial owners?
Name, address, date of birth and social security number or other government identification number, such as a passport, for individuals that own 25% or more of the equity interest of the legal entity customer, and individuals with significant responsibility to control, manage or direct the legal entity customer. 
What information will be required prior to opening an account for a legal entity customer? 
We will ask you to provide us with:
Copies of business documents proving ownership and organization
Business Tax Identification Number (EIN)
We also ask that you contact us promptly upon any change in beneficial ownership information during your relationship with our bank.